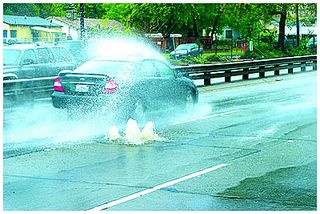 No more of this for almost a week!

The sun has finally reappeared in SoCal today, so we get almost a week to dry out before the next storm system wades ashore from the Pacific. The picture above is on the 110 Freeway in Highland Park - the water is so full in the storm drain system that it is spraying up from manhole covers in the middle of the road, causing for some nice traffic jams in a place where you don't expect to see a fountain. This led me to wonder what the experts were thinking back in 2004 about this winter's rain totals. A quick trip to the
NOAA
site led me to this prediction from October 6, 2004:
The precipitation outlook calls for wetter-than-average conditions in parts of California, the extreme Southwest and across the Southern U.S.—from Texas to Florida. Drier-than-average conditions are expected in the Midwest, northern Plains and Pacific Northwest.
The winter outlook indicates some improvement in drought conditions in the West, but long-term drought is expected to persist through the winter in many areas.

Seems the weather experts were right after all.
Winter rain outlook back on October 6, 2004.