UPDATE: 9:30 PM Pasadena Standard Time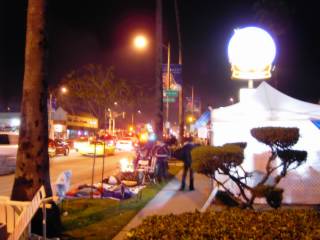 Food, fires, fun.

Well, this "Dark Side" report is finally "dark." As I write I can hear golden oldies tunes from the 80s being blared from some outside speaker, voices, and smell many fires and grills running at full blast. There are more food stalls this year than I remember selling hot dogs, hamburgers, tacos, fruit drinks and kettle corn. As a kid, it was lunch trucks, colloquially known as "roach coaches," that made for street food fun. Very few of those around in 2004.
More of the same.

Since the Pasadena PD doesn't have enough officers for the crowds, most of Los Angeles County has been called in to help, both police and sheriffs. About an hour ago I saw four sheriff patrol cars take a break in the alley behind my duplex. Too bad they didn't catch the fool driving in reverse up my block at 30 mph. That weirdness, however, is par for the course on Colorado Blvd. tonight.
A good night's sleep.

Currently, it's 51 degrees F (10 C) and will go down to around 43 F (6 C), so everyone is bundled up. With a couple of hours to go before midnight the sidewalks are crowded, the streets are packed with traffic, and everyone will try to stay awake for at least a couple more hours until the "big noise" of 2005. As for me, I'm signing off for the rest of tonight, and will head off to my Dad's in the morning to watch the parade in person and take lots of photos to post for you all tomorrow afternoon.
Happy New Year to all of you who read this little blog. May we all be saved from the wrath of nature, and the wrath of the American Executive Branch in the coming twelve months.