A continuing update on the T of R festivities from a native's point-of-view.
20 Years of the Rose on the Norton Simon Museum

Pasadena is in a buzz today. Not only are volunteers scrambling to paste flower petals and seeds on floats, but the camera crews descended upon the city today. This morning, while there was still sunlight, I strolled over to the intersection of Orange Grove and Colorado, where most people will watch the parade via television. The property is owned by the Elks and at this time of the year becomes a jungle-gym of scaffolding. Pedestrians, like myself, have to negotiate dark passages underneath, hoping that the construction crews remembered to tighten the nuts and bolts.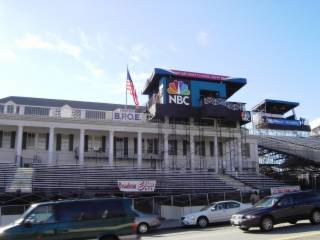 The other side of the camera.

Below is a nice view of the south side of Colorado Blvd. where the VIPs and media congregate. You won't see this view come Saturday morning.
Construction still continues.

Unfortunately, the scaffolding obscures a wonderful flagpole on the north side of Colorado at Orange Grove dedicated to the fallen of WWI. Since the television cameras will ignore it, and most people will walk by without taking a closer look, please enjoy the detail.
Just outside the Norton Simon.