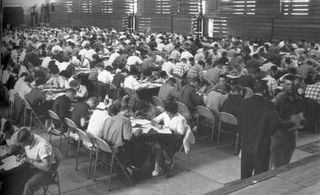 It's Testing Time.

The Happy Staff at Assessment Central is quickly approaching critical mass. Today, and several days last week, we hit our theoretical maximum for accomodating test takers (close to 400 testing units/day), so The Angry Anthropologists is quickly becoming the Burned-Out Bureaucrat. Keep tuned in, however, and I'll post a few more of the comical responses and questions we continuously get during the peak July/August season.
Did make a few template changes, and added another section from folks I have enjoyed reading.
Lastly, remember that if you loose your sense of humor in lines of sweating, angst-ridden undergraduates waiting to be tested, advised, and counseled, you'll look like the following:
And before you get your classes....